Photography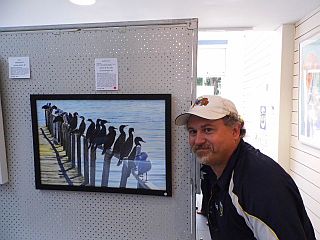 In the second half of 2011, I borrowed a digital camera to take pictures of the area that I was living in. Little did I know at the time, I would go on to revive a hobby that I hadn't had an interest in since my adolescent years. In 2012, I decided I needed my own camera, and purchased a $45 pocket camera in April, and soon discovered a truly creative way to feed my OCD. By the end of the year, having acquired a second camera, pictures that I had taken would be gracing exhibition walls and the pages of local newspapers put out by Ducks Crossing Publications, which I was delivering at the time.
I generally take a camera with me when I go out, though every two or three months I will dedicate a day to go for a walk somewhere on the coast and snap off a few hundred pictures. I've even been known to take trips to Sydney to do the same, and, when on rare trips away from the coast, the camera comes with me as well. I like taking land and seascapes (water is a common theme in my exhibition pieces), wildlife (mostly birds) and various things that I see whilst I'm out and about. I have even tried my hand at sports photography, even though I really don't have a camera suited for it, and have taken quite a few pictures of Central Coast Mariners matches, with a couple featured in a local paper. An Australian website, Monument Australia, which documents monuments located around the country also features a few of my images, mostly of monuments and memorials around the Central Coast.
I have discovered that one really doesn't need a really expensive camera to take a good picture. In May 2012, I took an incredible shot with my pocket camera of a forest scene in the local Rumbalara reserve, taken in the morning after it had rained the night before. I had the shot enlarged, then framed it myself, and entered it in the 2012 Art Works! Mental Health Art Exhibition. I didn't win a prize, but my picture sold on the opening day, and I was informed that not only should I have put a larger price on it, but I could've sold it several times over. In 2013, for the same competition, I entered a very pleasing image of coastal birds on the railing of a rickety jetty, which did sell several times over. The money received paid for the camera that took it twice over.
I was entering competitions on a regular basis, but was disappointed that I wasn't winning any prizes or selling more pieces. In 2014, a contest judge said that there was nothing wrong with my photographs, I just needed to present them better. It was definitely a face palm moment.
So I started getting the pictures professionally framed, and, sure enough, in 2015, three (minor) prize winners, and a dramatic increase in sales. The birds on the jetty shot, which is titled Chillin' at the jetty, and taken at the appropriately named Central Coast suburb of Long Jetty, picked up a commendation at an exhibition for artists who have had (or still have) mental health problems in Sydney. A second photo, which was taken just down the road from my flat in East Gosford, called At Rest, which was of a rather beautiful sunset, with a boat at anchor lurching at a 20 degree angle on a shallow tide, picked up a commendation at another exhibition in Sydney, whilst a third piece, a close-up of a rather small crab in shallow water, with it's eyes poking up, received the third place ribbon at the Gosford Regional Show of that year. That picture, entitled Peek-a-boo! was also taken just down the road from my flat as well. It just goes to show that one doesn't have to go far sometimes to get good subject material. I should add the judge had some nice things to say about the At Rest image: Clarity of composition, good light, and evoking stillness and serenity. Very nicely put indeed.
Since then, I have managed to get a couple of framed prints into the Casa del Sol gallery at Koolewong. One of a rather brilliant sunset entitled Naturally Isolated, with another of a lit-up bridge on a foggy night called Midnight Architecture.
The images have been divided up into "Competition", "Favourites" and "Featured". Competition shots are those that have been entered in exhibitions as well as various competitions. Favourites are ones that I personally like, but for some reason never entered them in anything and those on the featured page have either been published in local newspapers, are currently hanging on a gallery wall or are featured on other websites, excluding my blogs and the book of faces page.
24 Jan, 2019